About Giggle Life
Here at Giggle Life we are firm believers that

cloth diapers

are the best way to go for diapering because they are better for the environment, better for the baby's health, and they will save you money! The quality of our cloth diapers are among the best and we are also one of the most affordable brands because we use a direct to consumer approach. Our goal is to build awareness and make cloth diapers affordable enough that they become the primary choice for diapering.
I was sent two Giggle Life diapers to review. One yellow bamboo cloth diaper + two bamboo inserts, and one pink ultra soft cloth diaper + two microfiber inserts. I will tell you right away that I love both of these diapers. Now let me tell you why...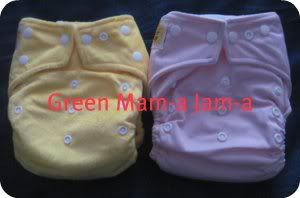 Yellow Bamboo(left), Pink Ultra Soft(right)
I'll start with the bamboo diaper because I am fairly new to bamboo and I am the most pleased with this diaper. The best feature of the bamboo diaper is that trimness! This has got to be the trimmest diaper ever!!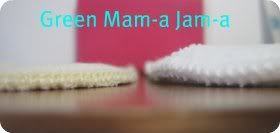 LOOK at how much thinner the bamboo insert is compared to the microfiber!
Comparing the bamboo to the ultra soft diaper, you will see that the bamboo is a lot trimmer. The outer material of the bamboo diaper is minky fabric and is so soft...definitely one of the softest diapers in BuBu's collection.
The inner material is soft and does not get that crispy feeling after being hung to dry. It is very flexible and not stiff at all. It feels a bit like a towel.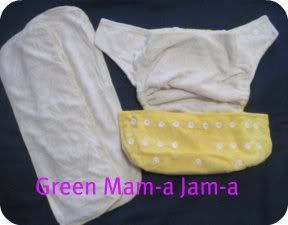 I have heard that bamboo diapers are a little on the delicate side, so I did not throw this diaper into the dryer with all my other diapers. I hung it to dry in my bathroom and it took a good 24 hours to dry completely. This diaper looks awesome on BuBu!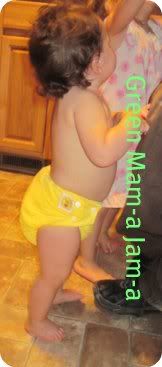 It has a great fit around her waist and thighs and looks large enough for her to gain a lot of weight and it will still fit. She currently weighs 24 pounds and I have the diaper on the second to largest rise setting.
Absolutely no leaks using this diaper during the day OR at nap time! I used both inserts for nap time(photo above was with both inserts). The bamboo insert absorbs more that you can imagine. BuBu slept for a good 2-3 hours for her nap and woke up with a super heavy diaper..and all the pee was contained! I am so impressed with this diaper I am going to have to get some more for my newest little arrival!!
Onto the ultra soft cloth diaper...
The ultra soft diaper is very soft and has an unbelievably soft inner fabric too! Maybe that's where it gets it's name? I noticed that there is a difference between these diapers, other than the material, and that is the ultra soft diaper has no hip snaps. Even without the hips snaps, the diaper stayed put well and worked well overall.
I put this diaper on BuBu right before heading to the mall for some mommy-n-me time and we stayed out for about 2 hours. I didn't change her while we were out and when we got home, there was a tiny bit of wetness near the creases in her shorts. This was with only one insert. When I laid her down for a nap, I used two inserts and didn't have an issue with leaks or wetness. After lots and lots of washes, I am happy that the inner fabric is still as soft as it was when I first got it.
I am very pleased with both of these diapers and I have a good feeling I will be making a purchase from Giggle Life in the future! If I find out I am having a boy...I will need to replace all my girly diapers!

Giggle Life Cloth Diapers (both bamboo and ultra soft) are made to fit babies 8-33 lbs.
To Purchase
The Ultra Soft cloth diapers can be purchased for $16.99 and the Bamboo Diapers are only $19.99! Both the Bamboo and the Ultra Soft diapers come with TWO inserts! Visit
Giggle Life
to purchase.
For every 12 diapers ordered receive a free pair of our cute newborn socks (valued at $7.99) by entering the promotional code "GMJBL" in to the order comments during the checkout.
"Like" Giggle Life on facebook!
How would you like to win a Giggle Life Bamboo Diaper ??
The generous folks at Giggle Life have offered a diaper for one very blessed GMJ reader!
Enter using the rafflecopter form below. Giveaway is opened to US and Canada.
Only the mandatory entries need to be completed to be entered. All other entries are completely optional and will increase your odds of winning! have fun and good luck!
**Disclosure~ The product(s) in this review was provided to me free of cost for the purpose of conducting this review. All opinions expressed in this review are my own and are not influenced by monetary compensation.
a Rafflecopter giveaway