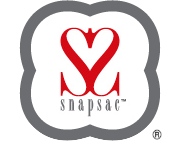 I have to admit, I have been a pretty big plastic bag user. Until I heard of SnapSac!
A SnapSac is a stylish tote that can be used over and over, thus saving our Earth a bit, by eliminating the use of plastic bags. SnapSac totes come is a variety of colors, designs and sizes.
SnapSac Tote Bundle
Grocery Tote
I had the opportunity to review a
SnapSac Tote Bundle
as well as a
Grocery Tote
! The SnapSac Bundle includes a Petite Tote, a Super Tote and a Mega Tote.
I knew I would have 100 uses for these.
I've used the petite SnapSac for a short trip in the car...running an errand...it is just the right size for a couple toys and two sippy cups. *The pocket located inside the tote is the perfect size for a pacifier.
Size: 18"w x 12" h x 7.5" g
easy snap closure
~The Super Tote~
The Super Tote has been so handy for when I have to drop my kids at the baby sitter. It is large enough for two changes of clothes, two sippy cups, a few cloth diapers and wipes and some room to spare.
Size: 24"w x 16.5" h x 12" g
Now, the Mega Tote is really large. It is perfect for a trip to the pool (unfortunately, there is no beach near where I live, or I would totally say "beach".). This Mega Tote is also a great overnight bag for when my 7 year old sleeps over her friends house. It is large enough for a sleeping bag, pillow, change of clothes, PJ's, and all the miscellaneous items a typical 7 year old would bring along to a sleepover! (see photo below)
On to the Grocery Tote, I bet you can guess what these are great for!! That's right...this tote is the perfect solution to those flimsy ol' plastic shopping bags! The Grocery tote is more durable than plastic and can hold more items as well. I love this one because it reduces the amount of plastic bags that go into landfills.
Size: 12.5"w x 17" h x 8" g
In my opinion, ALL SnapSac totes could be used as reusable shopping bags!!
Features:
• more durable fabric (35% thicker than average grocery bags)
• an inside pocket
• foldable with a snap in three places: at folding, at the top, and at the pocket
• Machine wash cold, line dry
Get a Green Mam-a Jam-a discount!(good until Feb 13)
SnapSac would like to offer all Green Mam-a Jam-a readers a 20% off discount! Use the code "GREENMAMA20 " at checkout! Happy Shopping!
**Disclosure~ The product(s) in this review was provided to me free of cost for the purpose of conducting this review. All opinions expressed in this review are my own and are not influenced by monetary compensation.