Another cloth diaper review here at Green Mam-a Jam-a! Check out
Groovycheeks
! At Groovycheeks, you will find cloth diapers, bamboo diapers and wetbags.
I had the privilege of reviewing one of their bamboo diapers. I had never used bamboo before this so I was pretty excited!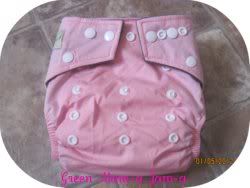 Large Size Setting
I received a Groovycheeks Bamboo diaper in Cotton Candy color. The outer fabric is made of 70%bamboo and 30%cotton and is lined with waterproof PUL to prevent leaks. Also, the inner fabric is a charcoal grey color and is 100% bamboo. As far as the insert, t
he outer fabric is 70% bamboo 30% cotton and the inner layers of the insert are 80% polyester 20% nylon.
Both the outer and inner fabric is super soft.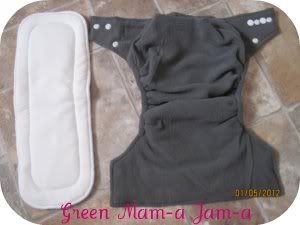 Since I had never used bamboo diapers before, I asked Mika, the owner of Groovycheeks, if I should treat this diaper any differently than I would all my other cloth diapers. She said bamboo is more delicate of a fabric and she would recommend I hang dry the diaper. So I do.
Located on the back of the diaper, there is a opening, to slide the insert in. Large enough for my hand to fit in easily.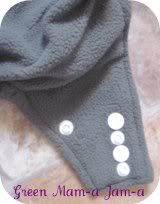 LOVE the hip snaps! Helps get a snug fit and reduces chances of leakage.
Medium Size Settings
BuBu, weighing 20lbs, uses this setting.
Small Size Setting
Side view of Small Size Settings
Leg openings look like they would fit a newborn nicely.
This Groovycheeks Bamboo diaper fits wonderfully on BuBu! The elastics used in the waist and leg openings are strong and have prevented an explosion! The elastics fit snug but don't irritate her skin or leave red marks on her thighs.
BuBu wears this diaper with just the insert it came with, during the day, and I am happy to say...we have not experienced any leaks! I do have to stuff an extra microfiber insert in for naptime or bedtime wearing. It holds up well at night too...no leaks. The diaper is pretty wide and there is plenty room to fit even a third insert, if ever needed. I can imagine this diaper will fit great until BuBu is completely potty trained.
My favorite feature of this diaper has to be the charcoal grey colored inner lining. BuBu has pooed a couple times in this diaper and I can't see a trace of a stain! Could be there...but I can't see it...and I love that! It is also super soft, as I mentioned earlier. After washing, i hang this diaper in my bathroom to dry. It takes about 6+ hours to completely dry. During the summer, I hang my diapers to dry outside. I am sure it will have a quicker drying time outside, in the sun.
To Purchase
Groovycheeks Bamboo diapers can be purchased for $22.50 at
GroovyCheeks.com
. Well worth the price! And just so you know, you can purchase their
wetbags
for only $7.50! WOW!
Connect
*Giveaway*
Mika, at Groovycheeks would like to give one reader their very own bamboo diaper! Winner can choose the color!! Thank you so much, Mika!!
To enter
Use the rafflecopter form below. Only the mandatory entry(s) are required to be entered. All other entries are totally optional and will increase your odds of winning!
Opened to US only and ends 3/27 at 12:01am! Good Luck!
**Disclosure~ The product(s) in this review was provided to me free of cost for the purpose of conducting this review. All opinions expressed in this review are my own and are not influenced by monetary compensation.
a Rafflecopter giveaway