Kidsstore
is an Etsy shop I recently came across where you will find all sorts of things for your infant or toddler. From bibs to crayon rolls, and aprons to blankets/bedding, you will find a nice assortment at kidsstore! You will even find some
beautiful nursing covers
!!
The "Do It Myself" apron~
Features:
~fun, juvenile cotton prints and lined with muslin
~deep pocket to store craft or baking items or toys
~fits ages 2-6
~machine washable and dryable
~pocket can be customized with child's name
~neck and waist band have elestic
~neck band closure has velcro(although we haven't had to use this feature)
The "Do-It-Myself" apron has features that allow a kid to put it on and take it off by themselves.
MooMoo was able to put it on, without any help from me even the first time she used it. She slid the waist band over her head and arms and put her head through the neck band. So simple...didn't need ANY help from me and I like that. I am trying to teach her independence and this is definitely helping!
MooMoo asks to help out more in the kitchen lately because she wants to wear her apron. Since she got her new apron, she is now the table setter, when it is time for dinner...she puts the utensils in her apron pocket, and places them where they belong on the table. I am proud of her and I know this apron has given her a little bit of independence.
The fabric is perfect for MooMoo...she loves pink and yellow and butterflies! Janie chose this print and she couldn't have made a better match for my MooMoo.
The Toy Organizer~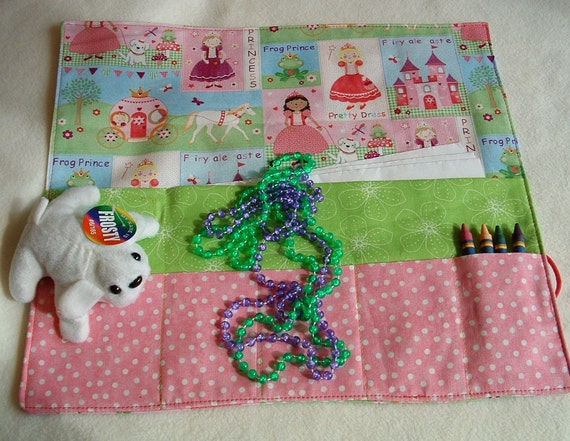 I borrowed this photo from her site because it's a great photo!
Features:
~cotton fabric with elastic band for closure
~100% cotton
~machine washable
~measures about 12" high and 13" wide
~7 pockets in various sizes
~one 4x6 pocket has velcro closure to prevent tiny items from falling out (she really thought of everything!)
~when purchased, the toy organizer includes items such as: 3 sheets of blank paper and 4 assorted crayons AND one item from the following:a mini stuffed animal, a Matchbox or Hot Wheels vehicle, a deck of cards and a mini puzzle, or another type of toy (*you are able to suggest which item you would like included!)
Here is MooMoo loading up her toy organizer with tea for two. She was able to fit two cups, two spoons,two plates, a small tea kettle and sugar jar into the toy organizer!
It all fit and we were able to close it up.
Love the fabric! Isn't it cute!!?!
Both of these items are very well constructed and don't have any imperfections. Seriously, they look like they could have been purchased at a department store!!
I love that she offers items for both boys and girls. A lot of shops tend to leave the little boys out...hey, they love these things too! Thanks for thinking of the boys too, Janie!!
You can purchase either of these items for $15 at
kidsstore on Etsy
. Be sure to look around, she makes lots of other quality things that would make great gifts!! psst...she even makes Dollie and Me matching aprons!!
Janie, the owner of kidsstore would like to offer an apron, or winners choice of other item at equal value, to one very lucky Green Mam-a Jam-a reader! Thank you, Janie!!
To Enter: Come back during MooMoo's 3rd Birthday Bash, Jan 14-Feb 1 and enter to win! There will be lots of prizes so don't miss out!
BLOGGERS: If you would like some extra entries, grab my Birthday Bash Button and put it on your sidebar. Leave me a comment with the URL to your blog for verification.
**Disclosure~ The product(s) in this review was provided to me free of cost for the purpose of conducting this review. All opinions expressed in this review are my own and are not influenced by monetary compensation.