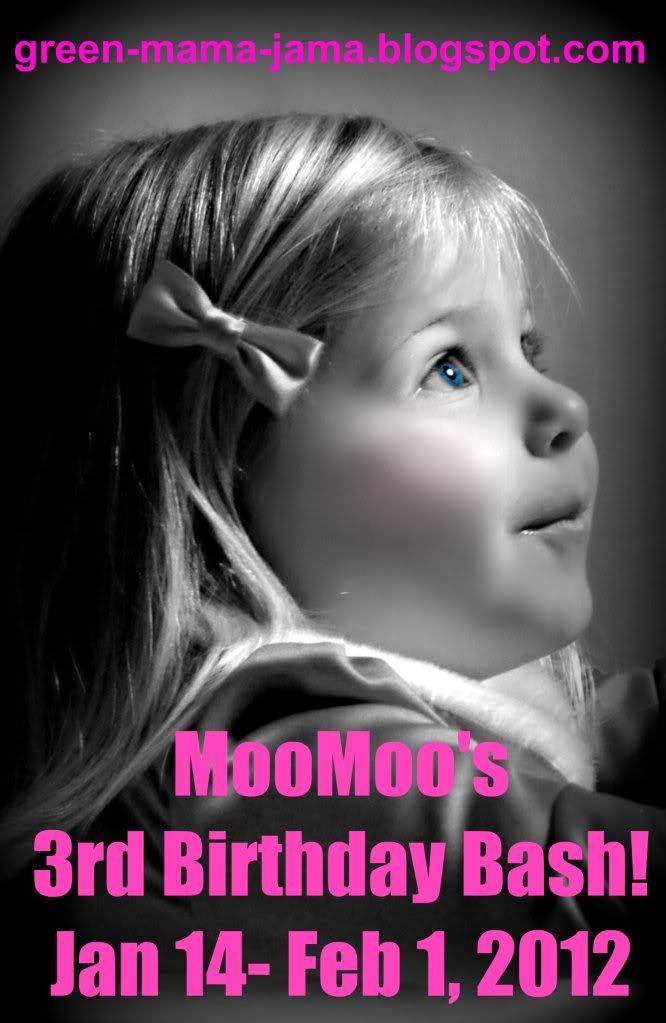 Happy 3rd Birthday to my little MooMoo!
MooMoo's 3rd Birthday Bash is here!!!
Now is your chance to win lots of different prizes!
Kidsstore
is an Etsy shop where you will find a wide assortment of items for infant, toddler and beyond. I was sent a "Do-it-Myself" kids apron and a Roll-up toy organizer for review. MooMoo and I love them both and have found great use for them! She has been such a great help in the kitchen since she got her apron and car rides have been much less stressful for me since she brings along her Roll-up toy organizer! Thank you,Janie!
*Read My Review*

The Giveaway
Janie, from Kidsstore, has offered one very lucky Green Mam-a Jam-a reader a "Do-it-Myself" apron for their child OR another item at equal or lesser value(up to $15).


This giveaway is opened to US only and ends 2/1
Enter using the rafflecopter form below. You only need to complete the mandatory entries to be entered. All other entries are optional but will increase your odds of winning!
**YOU MUST BE A GFC FOLLOWER OF MY BLOG TO WIN ANY OF MY GIVEAWAYS!**
a Rafflecopter giveaway