I am a tea lovin' mama and I drink at least one glass of tea a day. As a mom of three busy bodies, I keep caffiene in my daily diet. I do not allow my children to drink caffinated tea, except a sip of mine of course, every once in a while. I am happy to have found Opas Soap.
Opas Soap offers a very mild tea, that is specially made for children ages 2 and up.
I was sent a bag of
Organic Children Tea
from Opas Soap, to review. This tea consists of a few ingredients such as Verbena, Calendula, Melissa and Nettle. These few ingredients work together to create a mild tea that helps to calm children.
I made the tea two ways for Destiny. First we tried it warm a sprinkle of sugar and a tbs of honey. We also tried it cold with a sprinkle of sugar and a few drops of lemon. Destiny liked it warm best. We drank this tea together, right before bedtime and it definitely seemed to calm her down. Moo Moo, my 3 year old, also tried it. She really loved it as well.
The tea is very simple to make. Boil 8oz of water. Pour the hot water over the tea, in a glass mug, cover and let steep for 6 minutes.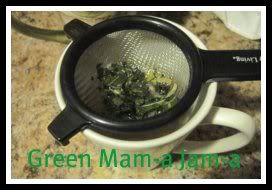 After 6 minutes, pour the tea blend through a strainer, allowing the liquid to pass through and the leaves to be captured. Discard the leaves.
Drink the tea as is, or add a touch of sweetener, such as honey or a dash of sugar. My kids liked it best with a small amount of sugar and honey. I though it was very enjoyable as well.
To Purchase
You can purchase some Organic Children Tea at
Opas Soap
for $8.95. Opas Soap offers more products including soaps of course, lotions, candles, oils and lots more!
Giveaway
The sweet owner of Opas Soap, Mercedes would like to offer a lucky GMJ reader a bag of Organic Children Tea! Thank you so much, Mercedes!
Destiny's 7th Birthday Bash runs from
March 25-April 12
. Check back and enter to win some Organic Children Tea and many other prizes!!
Blogger Extra Entries:
Grab Destiny's 7th Birthday Bash button(located on the top left of my blog)~comment with the link to your blog.
Readers Extra Entries:
Comment on this post. Tell me another product from Opas Soap that you love, or who you want to win this for...anything related to my review :)
**Disclosure~ The product(s) in this review was provided to me free of cost for the purpose of conducting this review. All opinions expressed in this review are my own and are not influenced by monetary compensation.