Vintage Couture is a childrens designer clothing company with apparel and gifts for infants, girls, boys and even Mom. In early 2010, we shifted our business model from retail stores to direct-to-the consumer. Our custom-made fabrics and exclusive line of boutique-style apparel is offered through Independent Fashion Stylists who sell online and at in-home Trunk Shows. We offer a flexible, work-from-home, business opportunity for women.
Our mission is to create exclusive brands of high-end clothing across market segments appealing to current fashion trends. Or goal is to become a globally recognized fashion industry leader in quality and design. We strive to offer our customers the highest standards of customer service and unique products. We are empowered to be a socially responsible company committed to giving back and enriching the world through community involvement.
Vintage Couture, Inc. is committed to the Juvenile Diabetes Research Foundation (JDRF) and their goal of finding a cure for this awful disease. A percentage of profits from the sales of Vintage Couture clothing are donated to JDRF. In addition, at every opportunity, either product collateral or interviews of Vintage Couture celebrity spokesperson Trista Sutter, we are raising awareness of this disease and the need for others to get involved in finding a cure.
(*Info taken directly from the Vintage Couture Website)
I contacted
Vintage Couture
to see if I could review an item for Destiny's Birthday Bash. They said yes, and allowed me to choose any outfit from their website. I love them all, so it was a hard choice. I decided on the Serenity Blooms outfit because I adore the halter top style and the super cute ruffle bottom pants.
Here are some photos of my sweet girl in her Vintage Couture Outfit.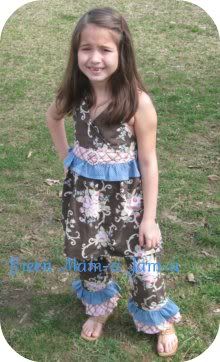 Looks super cute in the back too!
*My Review*
I absolutely love this outfit. It is officially the cutest outfit in her wardrobe! No questions asked!!
This adorable outfit features a halter-style woven top in their exclusive vintage print and plaid print. The fact that their fabrics are made exclusively for Vintage Couture clothing, is super cool to me. You wont find these fabrics anywhere else! There are ties at the back and neck, for a perfect fit.The top has a removable bling pin....so glad they thought of this. I'd hate to throw this in the wash with the pin attached! The ruffle capri pants feature an adjustable waistband.
This outfit is a size 7 and fits her great! The pants seem a little long for capris but they still look super cute and there is plenty of grow room. I can see it fitting her until she is 8, or even 9 years old!! I will surely be holding onto this outfit for my 3 year old and then for my 1year old as well. It's so cute!!
All of the outfits at Vintage Couture are so classy and original!
...and for the boys...
What makes Vintage Couture even more lovable? Vintage Couture is now sold direct-to-the consumer, and not through retailers. This has given women a chance to do something they love, while making some money! Great opportunity for moms to work from home!
Purchase
To purchase Vintage Couture clothing, visit Vintage Couture. The Serenity Blooms outfit that I reviewed can be purchased for $62.

"Like" Vintage Couture on facebook!
How would you like to win an outfit of your choice from Vintage Couture???
Giveaway
The lovely folks at Vintage Couture would like to offer a lucky GMJ reader any outfit on their website! Thank you, Vintage Couture!
Destiny's 7th Birthday Bash runs from
March 25-April 12
. Check back and enter to win an outfit from Vintage Couture and many other prizes!!
Blogger Extra Entries:
Grab Destiny's 7th Birthday Bash button(located on the top left of my blog)~comment with the link to your blog.
Readers Extra Entries:
Comment on this post. Tell me which item from Vintage Couture is your favorite, or who you want to win this for...anything related to my review :)
**Disclosure~ The product(s) in this review was provided to me free of cost for the purpose of conducting this review. All opinions expressed in this review are my own and are not influenced by monetary compensation.