Night lights are perfect for people of all ages. But, having a night light plugged into a low outlet is dangerous and I would not recommend it for a small child. I have three small children so until now we haven't used a nightlight, except in the bathroom.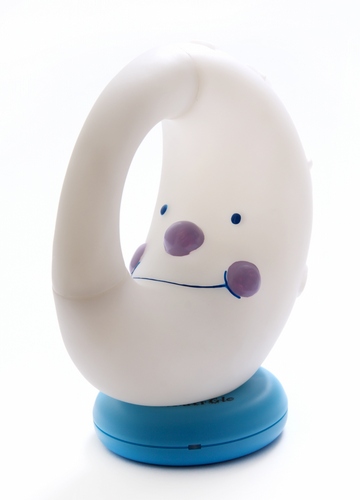 Quarter Moon KinderGlo Night Light
Easy to grab and hold on to. Yet, soft enough to cuddle.
The Qtr Moon's smile and easy to carry design makes it the favorite bedtime comfort and a daytime toy.
Dimensions (Moon) 5.5" x 5.5" x 2.75"
Includes charging station (compatible with all KinderGlo characters)
Timer: 30 minute auto shut-off or continuous on
Color modes: continuous cycling or choose red, blue, or green
BPA & lead free
6' charging cable
This night light has been used everyday/night since we received it. Each night, I tuck Destiny in with a kiss goodnight, we say our prayers and I hand her her KinderGlo night light. She is comforted by the moon and I can tell because she happily goes to sleep. Which is not what usually happens. She usually asks "Mommy, can you sleep with me?" or "Can you pray for me to have a good dream?".
I love that the Quarter moon is round with an easy to carry handle and can also be used as a bracelet...makes it fun for kids. This night light is right there in her bed for times where she wakes up at night to use the bathroom. With one click of a button, located on the bottom of the night light, the light turns on and remains on for 30 minutes. This gives her enough time to finish up in the bathroom, get back in bed and drift off to sleep.
After she fell asleep, one of the first nights with her KinderGlo night light, I crept into the room and took this picture.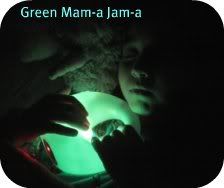 There are different modes you can choose for colors. You can either use one solid color(red, blue or green) or choose for the colors to alternate, which changes to red, blue and green with other colors in between. Destiny likes the continuous color rotation best because it displays pink, her favorite color. The night light offers bright enough light to gently light up the room, but isn't too bright where it will keep her up.
I expected this night light to get hot, or even a little warm after 30 minutes of use, but it doesn't! I don't need to worry about it heating her up at night and I definitely don't have to worry about burns!
This night light is safe for all ages! My 1 and 3 year old daughter's love this night light as well. The carry it around during the day, when big sister, Destiny is at school. I will probably have to buy at least one more of these. Look at the elephant!! How cute is that!!?!
To Purchase
KinderGlo offers an awesome variety of portable night lights, for just $24.95 each! Make a purchase at
KinderGlo
!
How would you like $5 off each night light ordered? Use the code
KURM6B54FFVN
at checkout!
"Like"
KinderGlo on facebook
!
"Follow"
KinderGlo on twitter
!
Giveaway
The generous folks at KinderGlo would like to offer a lucky GMJ reader any available KinderGlo night light on their website! Thank you so much, KinderGlo!
Destiny's 7th Birthday Bash runs from
March 25-April 12
. Check back and enter to win a KinderGlo night light and many other prizes!!
Blogger Extra Entries:
Grab Destiny's 7th Birthday Bash button(located on the top left of my blog)~comment with the link to your blog.
Readers Extra Entries:
Comment on this post. Tell me which night light from KinderGlo is your favorite, or who you want to win this for...anything related to my review :)
**Disclosure~ The product(s) in this review was provided to me free of cost for the purpose of conducting this review. All opinions expressed in this review are my own and are not influenced by monetary compensation.