I am a big HUGE fan of leg warmers! As many of you know I cloth diaper BuBu and I like to let her crawl around the house with just a diaper, and maybe a shirt. Well, we have carpet...and carpet and baby knees are no match! BuBu's knees get irritated from crawling just a few minutes.(we have that really rough carpet. I think it's called berber??) Crawler covers...a perfect solution! Not only are these crawler covers useful, but super cute!
I have purchased leg warmers from other companies before, but they NEVER came wrapped like this! Such an awesome idea for those of you who would like to buy some for a gift. Saves you time and money since you don't have to go out and buy wrapping paper or a gift bag.
Now, let's talk about the fit...I absolutely love the way these fit! They hold onto her thigh tight, but not too tight. Just enough to keep them from sliding off. The length is great too. They are a bit long for her short legs...but that's a good thing. More grow room.
Dee Dee and Moo Moo love these too. Dee Dee has actually wore the Black with Pink and Cream Hearts pair to school. Here in TN the weather is crazy. When she goes to school in the morning, it is in the low 50's. When she gets home, its in the high 70's! I like that she can just wear a pair of leg warmers, as arm warmers, instead of wearing a long sleeved shirt and being hot on the bus ride home. Now...you might say..."then why doesn't she just wear a jacket?" and the answer is simple...these leg warmers, or in this case, arm warmers are much cuter :)
Itty Bitty(infant size)~ 8-10 inches long and fit newborn up to 12 months
Toddler size~13-15 inches long and fit newborn to age 8
There is a HUGE selection, as I mentioned before, at
Crawler Covers and More.
You can buy one pair of leg warmers for just $8 or go with a bundle package and save! Check out the
4 pairs for $24 deal!!
(valid until Oct 31)
Wanna know something awesome???
Crawler Covers and More
has offered ONE super lucky reader FIVE pairs of legwarmers!!**Winners choice!* Thank you so much Crawler Covers and More :)
How to Enter:
Come back October 16-31 and join us for
BuBu's first Birthday Bash Review and Giveaway Event
! Don't forget! There will be loads of awesome prizes!
FOR BLOGGERS: Grab my BuBu's 1st Birthday Bash Button to get extra entries into ALL of the Birthday Bash Giveaways! Please leave a comment with a link to where you put the button.
"/>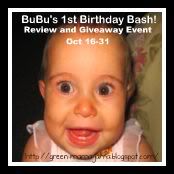 "/>
**Disclosure~
The product(s) in this review was provided to me free of cost for the purpose of conducting this review. All opinions expressed in this review are my own and are not influenced by monetary compensation.