As a child, I was raised by my Grandmother. I don't think a night ever went by that she did not read me, my brother and sister a book or two. Not only was it a memory that I would cherish my whole lifetime, but it was also a contribution to my education.
When Grandparents, Barney and Joan, were overwhelmed by the variety of products available to purchase for their new grand baby, they set off on a journey to create Little One Books. They wanted to make it easier for parents, and Grandparents of course, to find music suitable for their precious baby or child.
At Little One Books, you will find quality books, music and video for children. If you are looking for a music for a certain age group, Little One Books makes it super easy for you. Each age group has it's own category! In each age group category, you will find books, music and video products to suit your needs. They even feature a "why we chose this" detailed message for each item to explain why they chose that particular item.
I was blessed with a Sampler CD(Art of Living Baby Series Sampler) from Little One Books to review.
The sampler CD includes songs from four different CD's they sell on their site, including
Good Night
,
It's a boy!
,
It's a girl!
, and
Mozart for Babies
, all in the
0-12 months age category
.
With all three of my children, I have used music to comfort them when they were not able to sleep at night.
I was very pleased with the CD sampler and so was BuBu. As a matter of fact, although these particular songs are recommended for 0-12 months, I have played this CD to help my other two children, ages 2 years and 6 years, fall asleep. The music is so pleasant and it is very easy for anyone to enjoy it.
FREE GIFT:
The lovely people at Little One Books have offered a FREE CD(
Voyage to Your Inner Self
) to any GreeN MaM-a JaM-a reader who buys any two Little One Books products!! In order to claim your free CD, use the code "voyage" at checkout. Thank you so much, Little One Books!
To Purchase
Visit Little One Books to purchase their lovely music, books and video.
Connect with Little One Books on facebook and twitter
!
To Win
Little One Books has offered one blessed GreeN MaM-a JaM-a reader a $10 gift code to use towards anything on their site.
How to Enter:
Come back October 16-31 and join us for
BuBu's first Birthday Bash Review and Giveaway Event
! Don't forget! There will be loads of awesome prizes!
FOR BLOGGERS: Grab my BuBu's 1st Birthday Bash Button to get extra entries into ALL of the Birthday Bash Giveaways! Please leave a comment with a link to where you put the button.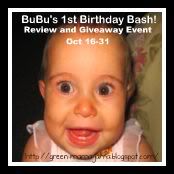 **Disclosure~
The product(s) in this review was provided to me free of cost for the purpose of conducting this review. All opinions expressed in this review are my own and are not influenced by monetary compensation.