When it comes to BuBu, I am very picky about food. I taste everything I feed her to make sure I approve of the taste before I offer it to her. I read ingredients and if the bad outweighs the good, it doesn't make it on the menu.
Starting out when Ella was a baby, Ella's dad wanted more nutritious, healthy and convenient food for her. That is when he decided his family would get to work on something for their little Ella!
At
Ella's Kitchen
, they believe eating can be fun, tasty and cool for kids. They take a "kid's view" when making their products from the color, texture, and flavors.
I found some really neat stuff on the Ella's Kitchen site. Be sure to visit and check out the
Recipes
!
I was blessed with 5 yummy pouches for BuBu to review.
Like I said earlier, I test BuBu's food before giving it to her so I know what she is eating. All of the flavors were delicious but one in particular stood out.
Spinach, Apples and Rutabagas
! It had a very different, but not bad, flavor that I hadn't tasted in baby food before. BuBu really enjoyed all of the pouches. I think she got a sense of independence when I gave it to her to feed herself. She did need a bit of help getting the last little bit out...we didn't want to waste a speck of this yumminess!
Although they are all delicious, I would highly suggest you mama's and papa's go get your little one a Blueberry+Pear baby Brekkie!
~Reasons To Love Ella's Kitchen~
Organic fruits and veggies
No added sugars, preservatives or thickeners
Awesome varietiy of flavors
Perfect snack size, on-the-go pouch
Delicious and Healthy
Connect with Ella's Kitchen on
facebook
and
twitter
.
To Purchase
You can find Ella's Kitchen products at Babies R' Us, Toys R' Us, Target and more! To find a location near you, visit the
Ella's Kitchen Website Store Locator
.
To WIN
I have great news...Ella's Kitchen has offered a giveaway of 10 yummy assorted pouches to ONE Lucky GreeN MaM-a JaM-a reader! Thank you Ella's Kitchen!
**Disclosure~
The product(s) in this review was provided to me free of cost for the purpose of conducting this review. All opinions expressed in this review are my own and are not influenced by monetary compensation.
How to Enter:
Come back October 16-31 and join us for
BuBu's first Birthday Bash Review and Giveaway Event
! Don't forget! There will be loads of awesome prizes!
FOR BLOGGERS: Grab my BuBu's 1st Birthday Bash Button to get extra entries into ALL of the Birthday Bash Giveaways! Please leave a comment with a link to where you put the button.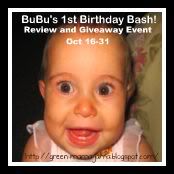 "/>