I am so excited to share our next Birthday Bash sponsor,
Big Belly Banks
! John Chesnut, the creator of
Big Belly Banks
started making these awesome banks for his 5 children.
I just can not get over how extraordinary these banks are. So much cooler than the typical piggy bank! They are hand crafted, AMERICAN MADE, wooden coin banks and they are available in many different characters/animals.
Big Belly Banks
can hold almost 1,000 quarters! All banks are personalized for free!
I have been blessed with the opportunity to review a
Big Belly Bank
of my choice. I chose the 23"Pink Dino for BuBu.
As I heard a truck stop in front of my house, I peeked out to see a man holding a huge box with "
Big Belly Banks
" on the side. Imagine a kid having that big box under the Christmas tree! This is a great Christmas gift idea!
As you can see, even the little ones are interested in these cool banks. It is never too early to teach them to save. My two older daughters, ages 2 and 6 are thrilled to have this in the house. They are always keeping their eye out for coins laying around on the ground so they can feed the big dino at home.
Moo Moo teaching BuBu how to "feed" the Dino
This is such a great invention and I am so blessed to have one for BuBu and the girls!
To Purchase
You can purchase your very own Big Belly Bank at the Big Belly Bank website. Prices range from $39.95(for the 20" banks)-$49.95(for the 23" banks)
Remember...FREE personalization! S+H is $11.95 for up to 3 banks in one box!
To WIN
John from Big Belly Banks has offered to giveaway away one Big Belly Bank(winners choice) to one blessed GreeN MaM-a JaM-a reader!
Thank you so much, John!
How to Enter:
Come back October 16-31 and join us for
BuBu's first Birthday Bash Review and Giveaway Event
! Don't forget! There will be loads of awesome prizes!
FOR BLOGGERS: Grab my BuBu's 1st Birthday Bash Button to get extra entries into ALL of the Birthday Bash Giveaways! Please leave a comment with a link to where you put the button.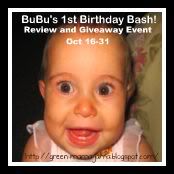 "/>
**Disclosure~
The product(s) in this review was provided to me free of cost for the purpose of conducting this review. All opinions expressed in this review are my own and are not influenced by monetary compensation.