When it comes to BuBu's bath products, I am pretty picky. I do not want to wash my precious baby with chemicals. For her soft delicate skin, I choose products that have natural ingredients.
My True Nature
offers natural and organic products for babies, toddlers and kids. I was blessed with a 1 oz. sample of
Daisy's Natural 2-in-1 Shampoo and Body Wash
and an 1 oz. sample of Bobo's Bubble Bath for review.
Daisy's 2-in-1 Baby Shampoo and Body Wash
~
A pure and natural formula that combines gentle, organic plant-based cleansers with nourishing, calming, and moisturizing olive oil and aloe to create an all-in-one wash for babies and toddlers.
This gentle wash is perfect for sensitive skin, cradle cap or eczema and will leave your little ones soft as silk and smelling clean.
My Experience
~ This product has a VERY light scent, which is perfectly fine with me, and did get the job done. After bathing BuBu, Her skin was soft and smelled clean. I'd say the scent smells a bit like citrus.
Bobo's Baby Bubble Bath
~
This pure, natural formula combines plant-based cleansers and botanicals to create mountains of big bubbles for bath-time fun and relaxation.
My Experience

~ I was actually a bit surprised at how well this bubble bath produced bubbles. I used one cap full per bath(about 3 inches of water). There were LOTS of bubbles...lots of big bubbles too. BuBu had a blast! To me, this bubble bath smelled a bit like menthol, which was perfect because BuBu had a runny nose. After bathing her with this, she fell fast asleep after I dressed her. The combination of a bath and relaxing scent can calm a baby down. I recommend bathing baby right before bed with this product. I think you would be blessed with the same results. :)
Interesting facts:
Not tested on animals

The bottles they use are

100% recycled PET bottles. They are made from post-consumer resin that is

FDA-approved

for food contact and thus are great for any products coming into contact with our bodies. The resin comes from used soda bottles and milk containers.

Coming soon~Hooded Towels made of 100% Organic Cotton!
Visit My True Nature on facebook, twitter, etsy and the My True Nature Blog!
You can purchase My True Nature products at
My True Nature has offered one LUCKY GreeN MaM-a JaM-a winner a Travel Set(
4oz bottle of Dewey's Bubble Bath and a 4oz bottle of Daisy's 2-in-1 Shampoo/Body Wash) *Pictured above* Thank you My True Nature!
How to Enter:
Come back October 16-31 and join us for
BuBu's first Birthday Bash Review and Giveaway Event
! Don't forget! There will be loads of awesome prizes!
**Disclosure~ The product(s) in this review was provided to me free of cost for the purpose of conducting this review. All opinions expressed in this review are my own and are not influenced by monetary compensation.


FOR BLOGGERS: Grab my BuBu's 1st Birthday Bash Button to get extra entries into ALL of the Birthday Bash Giveaways! Please leave a comment with a link to where you put the button.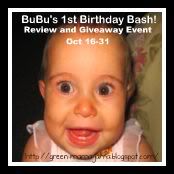 "/>