There are so many different brands and style choices for sippy cups these days. Some claim to be leak/spill-proof, unbreakable, etc. I hadn't found a great sippy cup that I would actually recommend to friends, family and blog readers until I found the Tommee Tippee,
Explora~truly spill proof sippy cup
.
I was sent a 2pack of Explora~truly spill proof sippy cups(pink and purple) to review. Right away, I knew these cups were great quality. They have a soft mouth piece, which is VERY important for little ones with no teeth, or in BuBu's situation, new teeth growing in. Another great feature is the hygiene cap, perfect for while not in use. Now...are these cups
really
spill/leak proof?? Absolutely. BuBu has dropped these cups several times, from the kitchen table and not once did even a little bit of liquid spill out. These cups are dishwasher and microwave safe! I don't usually use the dishwasher, but I do microwave milk for my older daughter. I'm glad to know these can be microwaved for future use, when BuBu is drinking milk. They are really easy to clean. I took a couple pictures to show you their unique valve system. (You can also
view a short video
on how to use/clean the valves)
I have to say...I am very impressed and would definitely recommend these!
Unlike other valve systems our active sensor valve is designed by a physicist to be both so sensitive that liquid flows on demand, yet truly spill and leak proof
explora ® truly spill proof sippy cup x 2 - purple / pink
2 x 11floz/ 325ml cups
Stage 2 cup
Advance-flo™ technology for easy drinking
Unique soft-flex spout protects gums
Hygiene Cap
Truly non spill and leak proof
BPA Free
The Day Baby Was Born is a free service provided by Tommee Tippee that automatically gathers information about the day your child was born, based on your selections, to create a storybook that you can share with family and friends. Welcoming a child into the world is an amazing journey, and so much happens so quickly it can be hard to remember every detail. This site is a simple way to capture and cherish your memories. Start as soon as you know you're pregnant and catch every detail of the journey.
Although BuBu will be 1 on October 16th, I decided to go ahead and make her one of these story books for the fun of it. It's super easy! Once I put in her birth date, which would be the "due date" for the soon to be mama's, it automatically generated ideas for me to include in my story book. I could decide what I wanted or did not want to include. Topics such as the current President, celebrities with the same birth date, average cost of gas, political and national news,etc. That is not all though...you can, of course, add a pregnancy/birth announcement, pictures, a letter to your unborn baby and more. Such a sweet sweet way to capture the memories of pregnancy and beyond!
This is a free service! You should definitely check it out! To make your own storybook, visit The Day Baby Was Born on Tommee Tippee.
To Purchase
To WIN
Tommee Tippee has offered ONE lucky GreeN MaM-a JaM-a reader a set of cups like the ones I received!(pictured above) Winner can choose gender!
How to Enter:
Come back October 16-31 and join us for
BuBu's first Birthday Bash Review and Giveaway Event
! Don't forget! There will be loads of awesome prizes!
**Disclosure~
The product(s) in this review was provided to me free of cost for the purpose of conducting this review. All opinions expressed in this review are my own and are not influenced by monetary compensation.
FOR BLOGGERS: Grab my BuBu's 1st Birthday Bash Button to get extra entries into ALL of the Birthday Bash Giveaways! Please leave a comment with a link to where you put the button.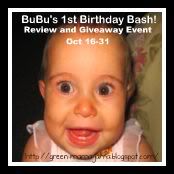 "/>