You might not be cool, but your baby can be.
Do you get tired of the same ol' clothes you see every baby wearing? Bunnies, rainbows, flowers and bears! If so,
Baby Wit
is here to help.
Baby Wit
offers very "different" clothing for babies(and adults).
the baby wit story
babywit.com was founded by a stay-at-home mom with a sense of humor who refused to resign herself to dressing her daughter in bland T-shirts covered in bears or other equally uninteresting creatures.
who we are
babywit.com creates quirky, eclectic T-shirts that show the world your baby has
serious
style. We have the largest collection of comic infant and toddler T-shirts on the Internet. We were tired of seeing cute rainbows, hearts and bears on baby shirts. Especially bears. We hated bears. And so, in 2003, Rosalee started babywit.com, a company that designs baby T-shirts with an adult sensibility.
After taking a deep look through the
Baby Wit
website, I noticed there is much more than unique baby clothes. I found CLOTH DIAPERS! Yes, clothes diapers on the
Baby Wit
website! You can purchase a
Gro Baby Waterproof Shell
for just $17! On top of that...check out the other awesome things I found for baby...
Oh I like!!
How unique!
This cute little onesie is perfect for girl or boy. I think this is going to look great with a pair of jeans, but for now, while it's still warm, I like to see her run around the house in just this.
Connect with Baby Wit on Facebook!
To Purchase
To WIN
Baby Wit has offered a $25 gift code to one lucky GreeN MaM-a JaM-a reader! Thank you, Baby Wit!!
How to Enter:
Come back October 16-31 and join us for
BuBu's first Birthday Bash Review and Giveaway Event
! Don't forget! There will be loads of awesome prizes!

**Disclosure~ The product(s) in this review was provided to me free of cost for the purpose of conducting this review. All opinions expressed in this review are my own and are not influenced by monetary compensation.


FOR BLOGGERS: Grab my BuBu's 1st Birthday Bash Button to get extra entries into ALL of the Birthday Bash Giveaways! Please leave a comment with a link to where you put the button.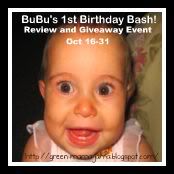 "/>